Tweet

Weekly schedule-
-H

ow many days a week? (Sample schedule for BCPK here)
-2, 3, 4, 7?

Why have a cycling schedule?
-Students that have a weekly schedule may miss out on workouts/training days that are the same day/ same time every week. If the scheduling is flexible as to when you can meet consider using a two week cycling schedule to maximize your group's attendence.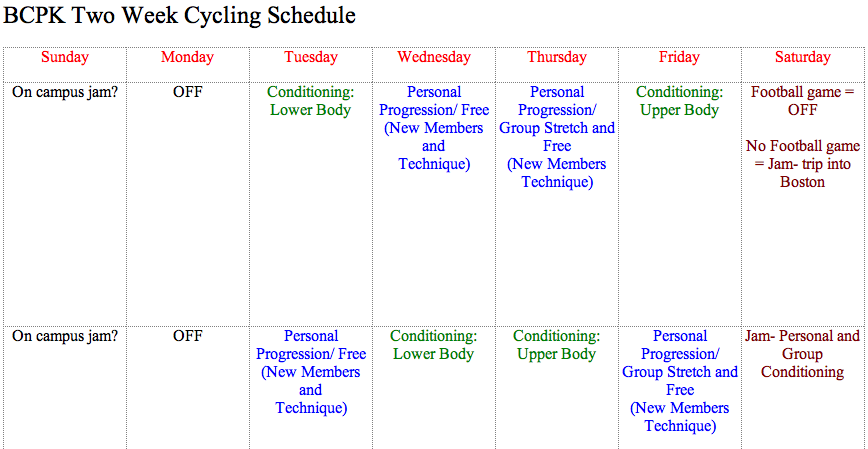 Things to consider:
-How many leaders/instructors will you have?
-What is the leader's availability?
In order to have multiple meeting days per week your group will most likely need more than 1 leader.
When planning workouts and schedules you must consider leader availability and plan to have a "backup" leader who is directly in touch with the designated leader for that particular day. (Sample availability chart here)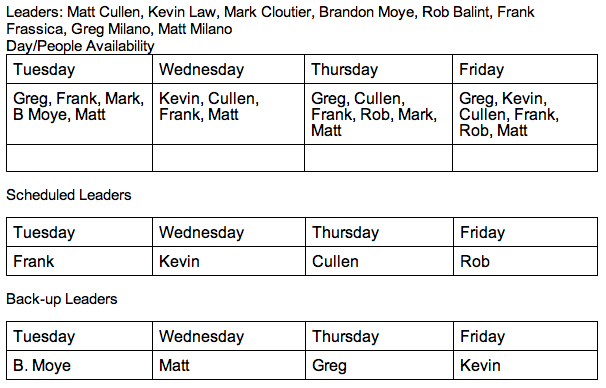 There are many things to consider when developing a workout schedule and plan. In order to keep a semester running smoothly and take the pressure off of the leaders of each workout, you must develop a schedule that will inform your members when and where they can expect to find you on each official workout day.
Tips:
Give your members options:
Offering a few days a week for training gives your members multiple days that they can attend.
How many days a week?
The number of scheduled training days depends on the availability of the leaders. But, we suggest having training as many days as possible as it is essential for members to not only have as many days as possible to train and learn but parkour training like working out or running should be done on consecutive days in order to maximize the comfort, endurance and strength involved in training.
Vary the focus of the workouts. Designate days that focus on upper body techniques and conditioning and days which focus on lower body techniques and conditioning.
Vary the teaching techniques and type of workout:
Consider varying the amount of freedom and instruction given on a particular day. Designate instructional technique days or conditioning days with structure, but make sure to also designate days that are looser in structure and give individual and group freedom to your members so they may work on techniques on their own and give them opportunities to teach themselves. Above is a sample schedule that includes "Personal Progression" days. These are the days designated for personal exploration of movement. Leaders must recognize the importance of freedom, creativity and self taught/ self exploration of movement in parkour training. Basic instruction and guidance when learning techniques can only go so far, so you must give opportunities for your members to work through the techniques themselves. In this way members will teach themselves and truly start to understand how their own bodies work.
Warm-up/Cool-down:
Every workout should start with a warm up and end with a cool down, whether the warm up or the cool down is dynamic, static or a combination is at your discretion. (More details/advice to come)
Workouts for different skill levels-
When designing or using a structure for a workout, you must try to incorporate different levels of difficulty or alternate ways to workout in order to accommodate every type of member. The great thing about parkour is that anyone can do it and this applies to the parkour workouts or techniques as well. There are always ways to progress into a technique as they become more and more complicated. Parkour is adaptive to any environment and every type of person and should never exclude people because of skill level or any other reason. Make sure to accommodate for different physical abilities or genders.
More specific instructional tips and guidelines for progression and safety coming soon!
Resources for Traceuses:
Lady WFPF
GirlParkour.com