Tweet


Many schools have services available that can guide individuals and organizations toward opportunities for meaningful
service and engagement. Contact your student affairs office for help with planning civic engagement and
community service events etc.

Community Outreach
Reach out to local high schools, make a day welcoming students to campus, give a parkour tour of campus!
Reach out to campus safety or campus police to give a seminar on techniques!
Reach out to Faculty, Staff, Administrators- give a seminar or update about parkour on campus!
Reach out to local Newspapers, Arts festivals, Gymnastics Gyms- Give a workshop, demonstration, seminar on parkour or parkour at your school!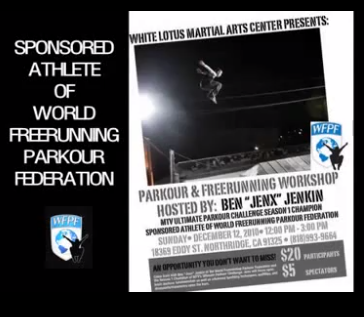 Offer parkour flash beginner classes at your rec center, parkour specific fitness, strengthening program.
Over Summer Break, staying on campus? Run a Parkour Camp for local kids. Lead a parkour program in an existing on campus camp.

Parkour and Academics
Teach a class on parkour!
Write a paper on parkour!
Do a research project on parkour!
Film project on parkour!
Volunteering

Make Parkour teams/groups to support charity.
Make a Parkour team for a charity run/walk. Make a parkour team for your local Relay for Life to help fight cancer!

Volunteer in your community with a Parkour group service trip!
Raise money and go on a Parkour group immersion trip- train and serve the community on Spring Break!
Events

Consider creating events that are geared towards a specific audience on campus or beyond! Developing a personal relationship between your group and others can benefit your audience but also can help introduce parkour and freerunning to a more general audience while making an event personal and inviting.

Parents Weekend

- Parents weekend is a great opportunity to hold an event that is geared towards family and give parents the opportunity to get a sense of what their children are doing in college. Hold open training that parents and family are invited to train or just come and watch!
Alumni Weekend

- In collaboration with the schools alumni weekend or by holding your own event or weekend, invite all current alumni back to campus to train and just have fun!

Also consider holding training or have an an event geared towards professors, administrators, faculty, friends, campus police or campus safety, RAs etc. to come see what your group is all about! Have an information session for people to find out what your club does besides training. Tell people about events, programs, community service, trips, etc.



Collaboration
Consider collaborating with other groups on campus for programs, events, and showcases. Seek out groups that have similar interests such as dance groups, martial arts groups, culture groups or other athletic groups would benefit from collaborating. Combining resources and advertising for mutual beneft can help build a relationship between your group and another group on campus and help unite and strengthen the student organization community.