Tweet

Club Proposals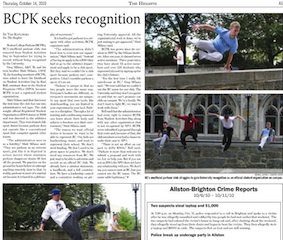 Here are some tips and guidance for writing your own proposal. For examples of proposals written by groups around the country go to the Club Documents Tab. Have you written a proposal that is not included in our list? Do you have tips to add to our content here? Send them to us at college@wfpf.com.
State o
rganizations official purpose and mission




-For example: "to teach Parkour and share the philosophy of Parkour", "focus on the development of the whole person",

"emphasizes safety and respect"



Describe the goals and vision of the future of the group.


-"We hope to breed leaders, develop camaraderie through traditions, and most importantly have fun." Consider including ideas for community engagment and community outreach (more information and ideas here)


Define parkour for the institution
- For guidance refer to the College WFPF curriculum

Describe how does new organization differ from other registered organizations.
-School are interested in seeing how a parkour group would differ from a running club, excersise club or martial arts club. They want to avoid clubs being repetitive.
Explain why group should become a registered student organization
-Each institution awards their own benefits to becoming a registered student organization. How would you use the benefits of becoming a
registered student organization to better your group and student life on campus?
Describe how the organization will add to the quality of student life on campus.
-Before an institution takes on the responsibility of supporting a group, and before you are awarded the benefits of being a
registered student organization they want to know how you will better the quailty of student like on campus and how you will represent and promote the mission of the student organization department.
List or describe events or other activities the group will host or participate in.
-Approval Committees want to see how you might add to existing events or activities on campus or what new and exciting events or activities you plan to bring to the student body.
Describe the monetary, space and support needs for the activities of the organization.
-Be very careful how much you ask of the institution when proposing a new club as it can have a huge effect on their decision to approve your group. Most institutions capacity to accommadate new groups is very small. We suggest you ask the very minimal amount at first an once you have built a relationship and foundation of trust with the institution it can become easier to gain more support later.
Sample proposals from real groups!
Download the pdf now!
BCPK